James Augustus Hicky was the founder of India's first newspaper, the Calcutta General Advertiser also known as Hicky's Bengal Gazette, in 1780. Soon other newspapers came into existence in Calcutta and Madras: the Calcutta Gazette, the Bengal Journal, the Oriental Magazine, the Madras Courier and the Indian Gazette. While the India Gazette introduced in November, 1781 enjoyed governmental patronage including free postal circulation and advertisements, Hicky's Bengal Gazette earned the rulers' wrath due to its criticism of the Government. It was a Weekly Political and Commercial Paper, Open to all Parties, but influenced by none. It was founded by James Augustus Hickey. It also known as "Calcutta General Advertiser & Bengal Gazette". It published in English language. The newspaper soon became very famous not only people but among the British soldiers posted in India at that time.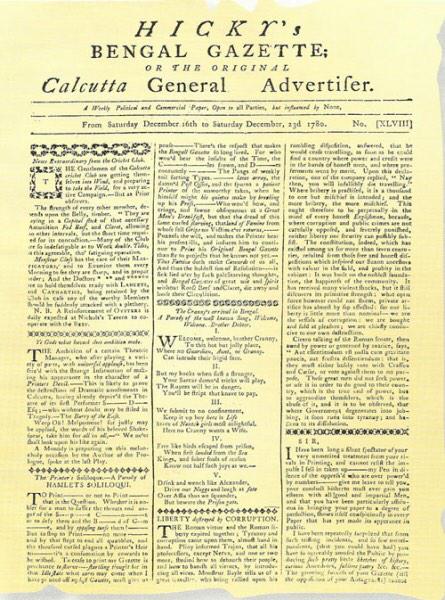 It was an inspiration for the Indians to launch newspaper of their own. James hickey was deadly opposed to East India Company and started gazette to take revenge from East India Company. Hickey Bengal Gazette was full of advertisements. The paper ceased publication on March 23, 1782. It was published just for two years.  It was a weekly newspaper, and was founded on January 29, 1780, in Calcutta, the capital of British India. Hickey Gazette started from Calcutta because East India Company established her first. This newspaper started in the year 1780 under the British rule. Hickey was the editor of that newspaper. He was a pioneer in  bringing the start of journalistic activities in the country. The gazette consisted of two pages, about twelve inches by eight inches which were printed on both sides. There were three columns of printed material on each side, most of which were advertisements. There was a corner for poets, called 'Poet's Corner'.  The paper occasionally acted as a tabloid, with articles about scandals, local gossip, affairs about the life of the European Community at Calcutta. There were also articles taken from English newspapers, letters from local and rural readers, and most importantly a column which Hicky kept to communicate directly with the readers himself. His paper would come under direct scrutiny by the administration. Hicky, a pioneer of the Indian press, inspired many others in Calcutta, Bombay and Madras to venture into newspaper publishing. Within 10 years of the publication of 'Hicky's Gazette', there were 15 publications across India. By this time there were well established publications all over Europe and America too fighting for democratic rights. Hicky unfolded the power of the press to the Indians. He championed the cause of freedom of speech and expression. Hicky was a forerunner of a great fighting tradition that continued during freedom struggle against the British authorities. His short temperament, biases and eccentric ways did not earn him respectability as a journalist. He lacked education and a broad understanding of the role of the press. However, he dared to fight the highest authorities and never compromised. For this reason alone he has to be remembered. India is the world's largest democracy. Its print media culture, a system that has evolved over centuries, is comprised of a complex framework. Modernization has transformed this into a communications network that sustains the pulse of a democracy of more than one billion people. India's newspaper evolution is nearly unmatched in world press history. India's press is a metaphor for its thriving democracy.
---
*I'm not a guru, nor do I have any kind of a black lore or accomplishment. Were all written in my article entitled have been expressed only through education purpose. Information on the traditional uses and properties of herbs/ animals/ yoga/ places  are provided on this site is for educational use only, and is not intended as medical advice. all image credit goes to their Photographers. There is no coordination with anyone, If only he would be considered a coincidence.