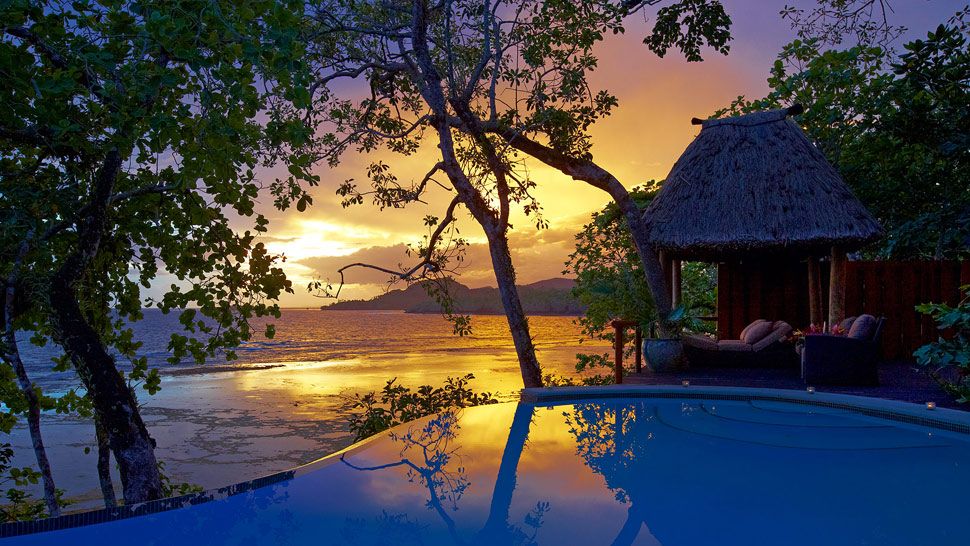 Pic Credit: kiwicollection.com 
Tourism for many countries plays a vital role in stabilizing the economy of the country. Fiji (sometimes called the Fiji Islands), is a Melanesian country in the South Pacific Ocean. Fiji became independent in 1970 after nearly a century as a British colony. Democratic rule was interrupted by two military coups in 1987 caused by concern over a government perceived as dominated by the Indian community (descendants of contract laborers brought to the islands by the British in the 19th century). Covering over 7,000 sq. miles (1800 sq. km) in the South Pacific, Fiji is one of the most romantic places for a honeymoon. Fiji offers an enticing array of distinctive relaxation options. Traditional Fijian Bobo massage, a healing blend of massage and local nut oils, Duavata island-style four-handed massage and Thalgo therapy mud and algae wraps top enticing local treatment options. Here you can revel in luxurious accommodations such as NAMALE – THE FIJI ISLANDS RESORT & SPA, an ideal place for windsurfing, diving and love. Because of the coral and the excellent visibility in the waters around Fiji, you can also look forward to spectacular snorkeling. An excursion to Beqa Lagoon – the crater of an extinct volcano – won't disappoint. TURTLE ISLAND is particularly known for romance. It is home to the Turtle Island resort that can only accommodate 14 couples in a one-of-a-kind setting. Here you can explore the Blue Lagoon by day and rendezvous on the beach for a candle lit dinner in the evening. White sandy beaches, swaying coconut trees, pristine oceans and waterways are waiting to be explored, with things to see and do that appeal to all kinds of travelers. glimmering white beaches hand-in-hand at sunset, snorkel, dive, surf or kayak our pristine oceans, white-water raft our clear and clean waterways, cruise the ocean around our mainland and outer Fiji Islands, trek our rain-forests, backpack the outer islands.  If you want a taste of the city in your holiday, check out Nadi. Nadi is full of action, with jam-packed streets, enticing shops and exquisite dining. And then there's our most precious asset, the smiling, generous, relaxed Fijians who greet you with our famous welcome – 'Bula!' The Yasawa Group of islands are more grand in stature than the nearby Mamanucas but are less commercialized, making them popular with backpackers. Vanua Levu is Fiji's second largest island. Less tourist-oriented than Viti Levu, there's still lots to see and do for the more adventurous traveller. Taveuni is known as the Garden Island and is an eco-tourist's dream with nature reserves harbouring an abundance of native plants and wildlife.Suva is Fiji's capital, its largest city and one of the most cosmopolitan cities in Oceania. The Lau Group, made up of a few small islands in Fiji's Far East, offer a glimpse of Fiji often not seen by tourists. Kadavu is one of the best places to experience true Fijian culture. With just one town and very few roads, you can escape modern life and experience Fiji's incredible natural beauty. Denarau Island, on the main Island of Viti Levu, is the largest integrated resort in the South Pacific. If you want to splash out and be pampered, this is where you want to be. Less than 10 kilometers from Nadi, it boasts eight large resorts, stunning beaches and an 18-hole championship golf course. The Lomaiviti Group is the perfect place to experience laid-back island life and also visit the UNESCO World Heritage Site at Levuka. The Mamanucas are a chain of 20 islands near Nadi and Denarau. One of the most established resort areas in Fiji, the Mamanucas provide a stunning array of activities for all types of travelers. Nearly everyone who visits Fiji comes to Nadi. This bustling multi-cultural town is the main hub for international travelers, and offers great places to eat, drink and shop. Whether you want to wile away the hours on a cafe terrace, or explore centuries-old ancient ruins, the islands will offer you what you are looking for. I urge couples to research the different islands and find what strikes them together as the place they want to land and experience.
---
My name is Vikas Acharya and I am a freelance writer, ghostwriter, Blogger and Travel writer. Click here to find out how I can help you create high-quality blog Articles,  contents, lead magnets Posts, ebooks, and web copy for your business.