Category:
schedule of the sixth ICC World Twenty20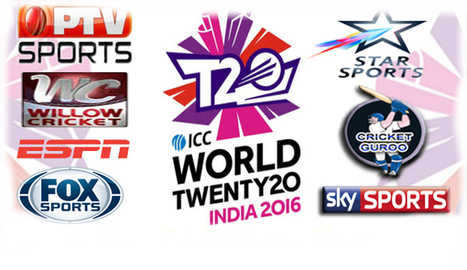 Image Credit: scoop. it
Twenty-20 cricket format is the latest addition to the game of cricket. The format has gained great popularity in a short time and has brought a carnival type of atmosphere to the game of cricket. The laws of 20-20 cricket are a bit different. The first formal Twenty20 game was played in 2003. The sole purpose was to make cricket even more interesting and appealing. Though, most of the rules in Twenty20 cricket very the same as traditional cricket, some of the rules were created afresh to provide meaningfulness to the game, because of the reduced overs in the new format. In each innings the number of the total overs bowled by each bowler cannot exceed four. In case the bowler throws a no ball (delivering the ball overstepping the popping crease), the rival team will not only get an extra run, they'll also get a free hit in the next delivery. So, the only way a batsman can be declared out is through a "run out" attempt in the next delivery. According to the rules in a Twenty20 cricket match, there cannot be any tie. In case of a situation, where the match ends up in a tie, each of the two teams would nominate three batsmen and one bowler to play an additional one over per side. This final over is called Eliminator or Super-over. It is also called the One 1. In first scenario, any team losing two wickets before the over is finished, loses the match. If it does not happen, the winning team is decided on the basis of run scored by each team in its Super Over. ICC World Twenty20 for the year 2016 is scheduled to be held in India from 8 March to 3 April and will be played in seven cities; Nagpur, Dharamsala, Mumbai, Kolkata, Bengaluru, Mohali and New Delhi. 16 teams have qualified for this tournament. 8 teams have directly qualified for Super 10. Two top most teams out of the 8 qualified teams of group stage will join the Super 10. During the first six overs, a maximum of two fielders can be outside the 30-yard circle which is known as power play. And after the first six overs (power play), a maximum of five fielders can be outside the fielding circle. In general terms we can say that the duration in which both teams play their games with full capability which can be referred as Power Play. The team which is batting wants to take charges more and more so that they can add some easy runs in their total whereas the bowling team wishes to restrict them with their main line bowlers. Often we see the team who is batting losses their wickets early just because of pushing themselves to take the advantage of power play.
Following is the complete schedule of the sixth ICC World Twenty20.2016
No.
Date
Match
Venue
Time
1
8th March 2016, Tuesday
Zimbabwe vs Hong Kong
Nagpur
PM
2
8th March 2016, Tuesday
Scotland v Afghanistan
EVE.
3
9th March 2016, Wednesday
Bangladesh v Netherlands
Dharamsala
PM
4
9th March 2016, Wednesday
Ireland v Oman
EVE.
5
10th March 2016, Thursday
Scotland v Zimbabwe
Nagpur
PM
6
10th March 2016, Thursday
Hong Kong v Afghanistan
EVE.
7
11th March 2016, Friday
Netherlands v Oman
Dharamsala
PM
8
11th March 2016, Friday
Bangladesh v Ireland
EVE.
9
12th March 2016, Saturday
Zimbabwe v Afghanistan
Nagpur
PM
10
12th March 2016, Saturday
Scotland v Hong Kong
EVE.
11
13th March 2016, Sunday
Netherlands v Ireland
Dharamsala
PM
12
13th March 2016, Sunday
Bangladesh v Oman
EVE.
13
15th March 2016, Tuesday
New Zealand v India
Nagpur
EVE.
14
16th March 2016, Wednesday
West Indies v England
Mumbai
PM
15
16th March 2016, Wednesday
Pakistan v Bangladesh
Kolkata
EVE.
16
17th March 2016, Thursday
Sri Lanka v Afghanistan
Kolkata
EVE.
17
18th March 2016, Friday
Australia v New Zealand
Dharamsala
PM
18
18th March 2016, Friday
South Africa v England
Mumbai
EVE.
19
19th March 2016, Saturday
India v Pakistan
Dharamsala
EVE.
20
20th March 2016, Sunday
South Africa v Afghanistan
Mumbai
PM
21
20th March 2016, Sunday
Sri Lanka v West Indies
Bengaluru
EVE.
22
21st March 2016, Monday
Australia v Bangladesh
Bengaluru
EVE.
23
22nd March 2016, Tuesday
New Zealand v Pakistan
Mohali
EVE.
24
23rd March 2016, Wednesday
England v Afghanistan
New Delhi
PM
25
23rd March 2016, Wednesday
India v Bangladesh
Bengaluru
EVE.
26
25th March 2016, Friday
Pakistan v Australia
Mohali
PM
27
25th March 2016, Friday
South Africa v West Indies
Nagpur
EVE.
28
26th March 2016, Saturday
Bangladesh v New Zealand
Kolkata
PM
29
26th March 2016, Saturday
England v Sri Lanka
New Delhi
EVE.
30
27th March 2016, Sunday
India v Australia
Mohali
EVE.
31
27th March 2016, Sunday
Afghanistan v West Indies
Nagpur
PM
32
28th March 2016, Monday
South Africa v Sri Lanka
New Delhi
EVE.
29th March 2016, Tuesday
Rest / Travel Day
33
30th March 2016, Wednesday
New Zealand vs. England
New Delhi
19:00 IST (13:30 GMT)
34
31st March 2016, Thursday
India vs. West Indies
Mumbai
19:00 IST (13:30 GMT)
35
3rd April 2016, Sunday
Final
Kolkata
19:00 IST (13:30 GMT)